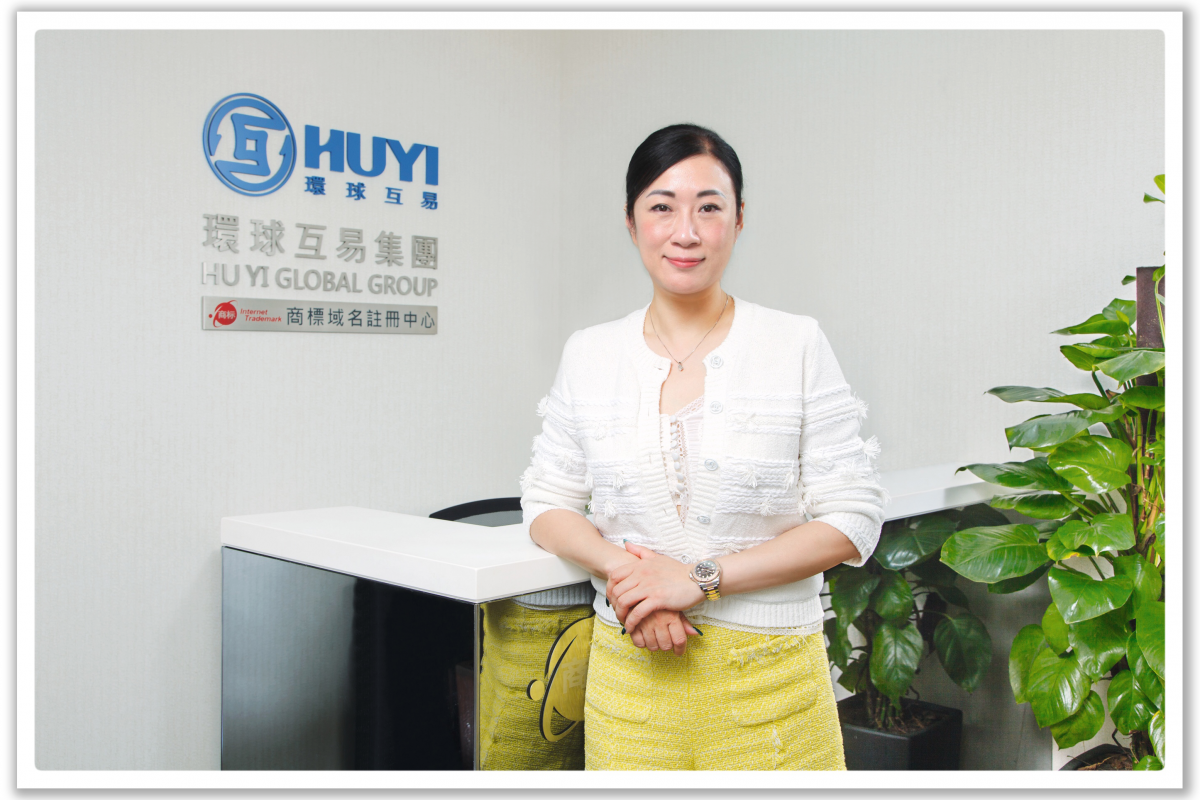 HUYI Global Group has established since 1992, and we are the ancestor engaged into the information dissemination service business in China and actively provide enterprises with the internet services. By our continual efforts that together with our core cultures include "Profession, Integrity, Innovation and Respect", we are prospecting to expend the business from online to offline intellectual property globally, and to strive the company get listed in the upcoming year.
Our Vision
To build up the best, innovative, high productivity and convenient platform over the high efficiency network together with the intellectual property autonomisation.
Our Mission
To develop and maintain excellent business relationships through premium service, user-friendly website tools, fast and reliable domain name registration with competitive price.

To adopt with differentiate communication channels, such as media printing and Internet to provide up-to-date, efficient, cost-saving, and accurate International information to all kind of the global enterprises.

To provide consistent honest professional and innovative services in order to assist our international clients to promote their businesses within the global market efficiently.

To enhance international enterprise brand, product and service promotion in the global market efficiently.

To collaborate and ensure both of our partners and clients that all adapt and utilize the online and office resources within the ever-changing information era.
Professional

We focused on customer needs to provide suitable assistance and professional analysis.

Integrity

We believe that integrity is essential to obtain the trust of customers.

Innovation

We will basis on customer demand to explore the unknown needs of customers, and develop more products and services.

Respect

We will listen to our customers, and solve their problems with good faith and pragmatic attitude.
2017-2018:

 

HUYI Global participated in HKTDC SmartBiz Expo 2018.

HUYI Global co-organized online brand management seminar with Internet DotTrademark Organisation (IDTO) and Internet Intellectual Property Institute (IIPI) to help local businesses to learn more about internet related IP challenges when doing business in China and the application of Dot Trademark.

HUYI Global co-held seminars with government institutions and business centers, for example, ways of protecting SMEs' Intellectual Property Rights in China.

HUYI Global became of one the awardees in the 22nd Innovative Entrepreneur Award organized by JCI City.

HUYI Global was honored by Economic Journal to be The SME Partner Awards of Excellence 2018 –  The Excellent Intellectual Property Rights Consultancy.

HUYI Global joined HKTDC ICT Expo 2018.

2014:

 

HUYI proudly announced the launch of the brand-new gTLD '.商标'. As an accredited Registrar of ICANN and CNNIC, HUYI continues its pioneer role in ensuring business integrity in the cyber world.

2012:

HUYI Global Group come into 20th anniversary, while have more operation experiences and more professional consultant teams in the field of internet services and intellectual property services.
Dien Law Firm Authorized by "The Ministry of Justice", P.R.C. in 2012, Dien Law Firm provides comprehensive Intellectual Property (IP) consultancy and its related legal services to businesses across the globe. Our legal advices & consultancy services include, but not limited to Intellectual Property trading, licensing, pledge, protection, trade secret protection, all types of IP and legal disputes in Mainland China.

2011:

 

HUYI Global Group obtain "2011 Chinese Industry Informatization Outstanding Contribution Enterprise Award", "2011 Chinese Industry Informatization Trusted brand Award", "2011 Chinese Industry Informatization Best Solution Award".

2010:

 

HUYI launched B2B trading platform, while cover the foreign consumers purchase method. It indicates Chinese enterprises developing the overseas operations. At the same year, companies under HUYI Global Group was named the Guangdong the top hundred enterprises in technology services industry.

2009:

 

HUYI Global Group was awarded the title of ".中国" Domain Name National Application Popular Operation Unit by CNNIC.

2008:

 

HUYI Global obtained the "2007 Internet Keyword Gold Registrar" and "2007 Wireless Keyword Outstanding Contribution Award" two awards in the 5th session of the "China Internet address resource registrar Meeting" organized by the CNNIC.

2007:

 

Global Intellectual Property Company Limited founded, while involved in the field of intellectual property services.
Global Intellectual Property Company Limited provide online and offline enterprise resource protection solutions for local and foreign customers, while achieve the management and optimization of intangible assets.

2006:

 

HUYI become China's top three domain name registration services. At the same year HUYI launched enterprise WAP site platform "挖寶易", while provide professional wireless Internet Website building services.

2005:

 

Under HUYI Global Group, Guangdong HUYI Technology Co., Ltd., HUYI Global Information Resources (Holdings) Company Hong Kong Limited, Sichuan HUYI Network Technology Co., Ltd., Henan HUYI Network Technology Co., Ltd., Shanghai HUYI Network Technology Co., Ltd. get CNNIC authorization, to become 2005 Internet Keyword, CN domain name, Chinese domain name registrars.
Guangdong HUYI Technology Co., Ltd obtained the "2004 Chinese domain name Gold registrar" and "2004 Internet Keyword Gold registrar" two awards in the second session of the "China Internet address resource registrar Meeting" organized by the CNNIC.

2004:

 

HUYI Global Group launches new website building products "CDDMO Station system", providing high-quality intelligence website building service.

2003:

 

Specified by China Internet Network Information Center, HUYI Global Group becomes a Internet Keyword and CN Chinese domain names registrar, the exercise of exclusive rights in the South China, East China, Hong Kong and other places promote "Chinese Internet" and expand overseas markets.

HUYI Global Group becomes Baidu PPC services Hong Kong distributor.

HUYI Global Group cooperation with Sohu Successfully, to become its search engine bidding advertising core agent.

In cooperation with the Yangcheng Evening News Group, published the country's first all-business orientation Yellow Pages, its e-commerce features, coated paper printing, all business information and distribution's characteristics, so that yellow page media fully upgraded, "City Yellow Pages" into the international advanced ranks.

2002:

 

HUYI Global Group published "Henan Yellow Pages", "Zhengzhou Yellow Pages", "Luoyang Yellow Pages", "Luohe Yellow Pages" in cooperation with Henan Netcom.

2001:

HUYI Global Group response to customer demand, have established a core business area in South China, East China, Central China, North and the West, set up a number of branches in the country and set up a customer service center in Hong Kong.

2000:

 

HUYI Global Group developed the first smart site building product "建站易", to promote Chinese enterprises building website.

1999:

 

China's Internet industry to flourish, HUYI Global Group network product sales in China, to provide B2B & B2C integrated information services, has achieved great success, and create a new profit legend.

1997:

 

HUYI Global Group enter the Internet industry, to become the Internet application service provider. We provide online business resource services and products, and explore the Chinese enterprises of information technology development actively.

1993:

 

HUYI Global Group start the sincere cooperation of China Telecom up to 10 years. We turn the most advanced yellow page concept into different enterprises and users.

1992:

 

HUYI Global formally established and into China, becoming China's first professional organization engaged in the dissemination of information, effectively solve the problem of the China Enterprise Information Resources Development's bottlenecks.